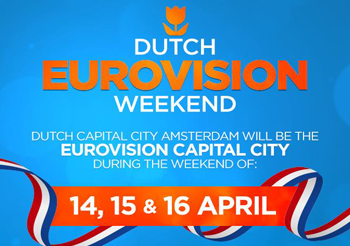 Amsterdam is the place to be for Eurovision fans during the weekend of 14, 15 ánd 16 April.
On Friday April 14th we start the weekend with Amsterdam Calling, the annual party of OGAE Netherlands with performances by: Senit (San Marino 2011/2020/2021), Slavko Kalezic (Montenegro 2017), Ott Lepland (Estonia 2012), Lindsay Dracass (United Kingdom 2001), Rosa Lopez (Spain 2002), Stefania (Greece 2020/2021), The Roop (Lithuania 2020/2021). More information via OGAE.NL
On Saturday April 15th we continue with Eurovision In Concert 2023!
And on Sunday April 16th the Dutch Eurovision weekend will close with the OGAE Eurovision Lunch. More information you can find here.