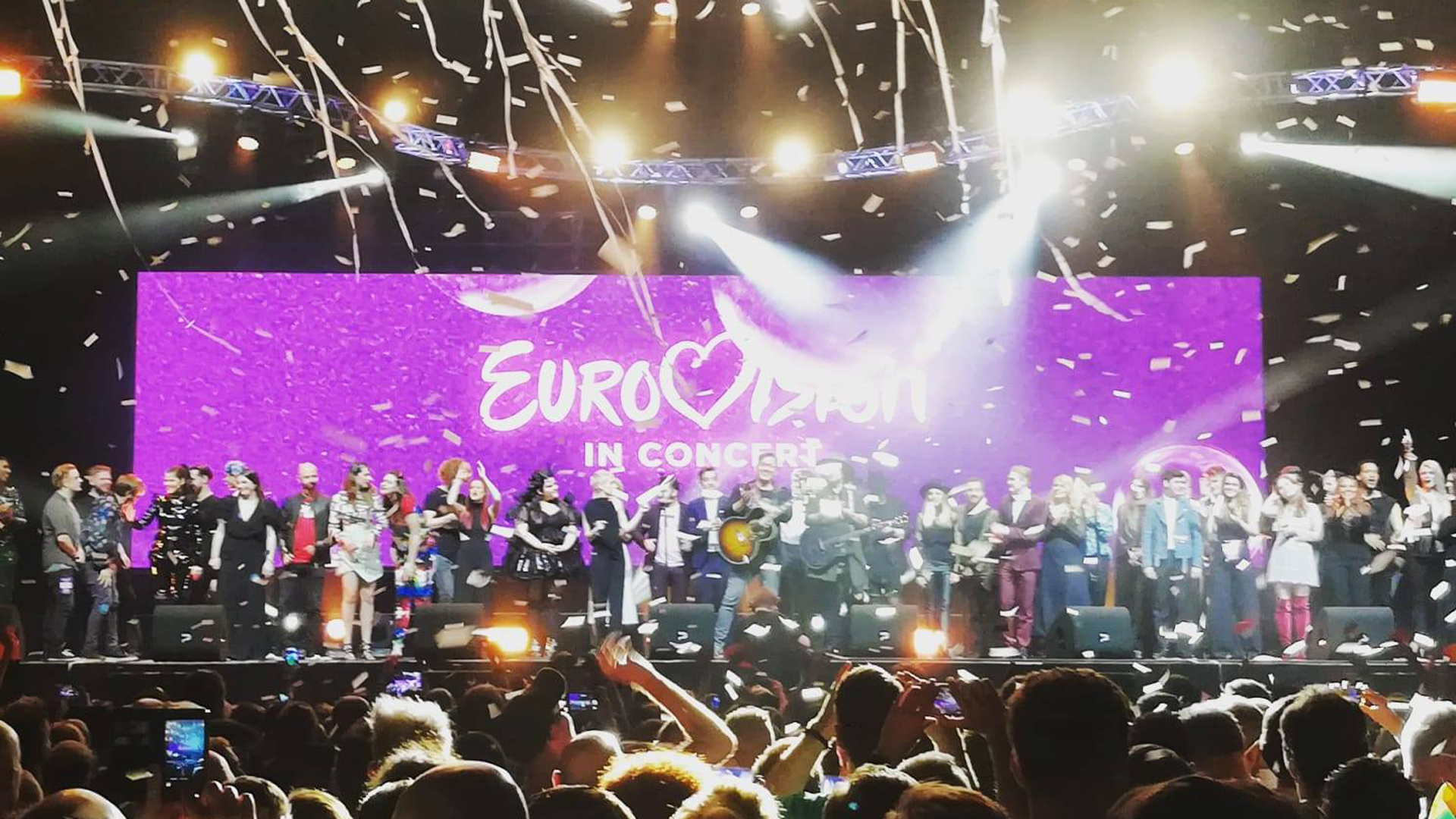 In 2018, we had 32 (out of the 43!) Eurovision acts performing at the Eurovision in Concert stage! In alphabetical order… (okay almost):
Albania – Eugent Bushpepa with 'Mall'
Armenia – Sevak Khanagyan with 'Qami'
Australia – Jessica Mauboy with 'We got love'
Austria – Cesár Sampson with 'Nobody but you'
Belarus – Alekseev with 'Forever'
Belgium – Sennek with 'A matter of time'
Bulgaria – Equinox with 'Bones' (with as special guest Kristian Kostov)
Czech Republic – Mikolas Josef with 'Lie to me'
Denmark – Rasmussen with 'Higher ground'
Finland – Saara Aalto with 'Monsters'
France – Madama Monsieur with 'Merci' (with special guest SuRie)
Germany – Michael Schulte with 'You let me walk alone'
Hungary – AWS with 'Viszlát nyár'
Iceland – Ari Ólafsson with 'Our choice'
Ireland – Ryan O'Shaughnessy with 'Together'
Latvia – Laura Rizzotto with 'Funny girl'
Lithuania – Ieva Zasimauskaitė with 'When we're old'
Macedonia – Eye Cue with 'Lost and found'
Malta – Christabelle with 'Taboo'
Moldova – DoReDos with 'My lucky day'
Montenegro – Vanja Radovanović with 'Inje'
Netherlands – Waylon with 'Outlaw in 'em'
Poland – Gromee ft Lukas Meijer with 'Light me up'
San Marino – Jessika ft. Jenifer Brening with 'Who we are'
Serbia – Sanja Ilić & Balkanika with 'Nova deca'
Slovenia – Lea Sirk with 'Hvala, ne!'
Spain – Amaia & Alfred with 'Tu canción'
Sweden – Benjamin Ingrosso with 'Dance you off'
Switzerland – ZiBBZ with 'Stones'
Ukraine – Mélovin with 'Under the ladder'
United Kingdom – SuRie with 'Storm'
And… of course the winner of 2018: Israël's Netta rocked the AFAS Live with an incredible performance of 'Toy'!